FREE Mobile App available to Design-Build Professionals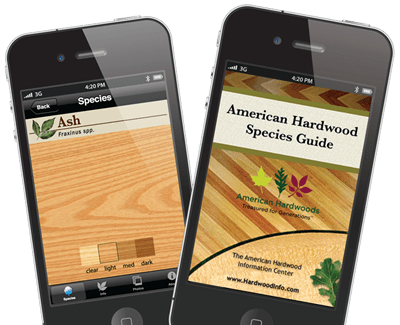 Having difficulty determining whether walnut or hickory would be better for that flooring APPlication? This should make it a little easier.
To assist Design-Build professionals in their information search, the American Hardwood Information Center announces the availability of its FREE American Hardwood Species Guide Mobile App. Apple and Android mobile device users can visit www.HardwoodInfo.com; link to their provider's app store, and then in minutes, have the ever popular Species Guide at their fingertips via iPhone, iPad, and Android.
Apple mobile devices click here.
Android mobile devices click here.
The FREE Reference Guide application includes information about many of the popular American hardwood species, profiling appearance, physical and working properties, availability and typical applications of each. A stain simulator displays the species in clear, light, medium and dark finishes to help visualize stain combinations of flooring, cabinetry, moulding and furniture co-existing in a single design space. There is also information on workability, and as an added bonus, each species profile includes images featuring the wood in finished applications.